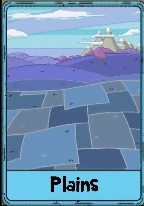 Blue plains cards are balanced. Most are very defensive, allowing resistance to such cards as Cerebral Blood Storm, and they have floops that relate to various and effective actions such as returning cards from your discard pile, negating modifiers, or preventing opposing creatures from flooping, raising magic points, which makes it different from all landscapes because other landsacpes use quantitive floops such as raising or lowering a number of defense, attack, or health. These random action floops can make the game much more interesting and can add strategy.
Blue Plains Cards Edit
Ad blocker interference detected!
Wikia is a free-to-use site that makes money from advertising. We have a modified experience for viewers using ad blockers

Wikia is not accessible if you've made further modifications. Remove the custom ad blocker rule(s) and the page will load as expected.