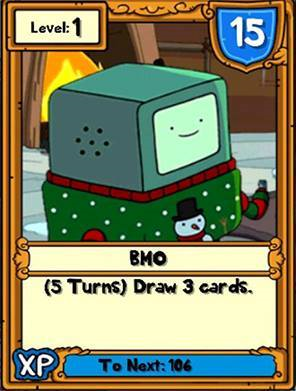 Holiday BMO is a Hero Card in Card Wars. It can be obtained through the Holiday Chest.
Hero Ability
Edit
(5 Turns) Draw 3 cards.
Strategy
Edit
Use his hero ability when you are low on cards in your hand. THIS MOVE COULD SAVE YOUR VICTORY!
Enter WINTER BMO in the "Redeem Code" window to obtain this card.
Ad blocker interference detected!
Wikia is a free-to-use site that makes money from advertising. We have a modified experience for viewers using ad blockers

Wikia is not accessible if you've made further modifications. Remove the custom ad blocker rule(s) and the page will load as expected.