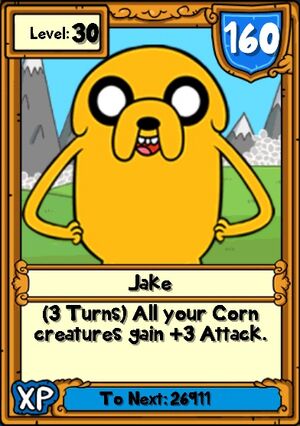 Jake is a Hero Card in Card Wars. It is the player's default Hero Card at the start of the game.
Hero Ability
Edit
(3 Turns) All your Corn creatures gain +3 Attack.
Jake is only recommended if the player has only Corn Fields creatures in their deck. Marceline (Hero Card) may be a better option if the player's deck includes creatures from other factions.
Jake cannot be used in any quest against himself and BMO. This is unique, as all other Hero Cards are unusable in quests against their respective selves exclusively.
Before the 1.0.7 Update,Jake's Hero Ability only gave +1 Attack.
Ad blocker interference detected!
Wikia is a free-to-use site that makes money from advertising. We have a modified experience for viewers using ad blockers

Wikia is not accessible if you've made further modifications. Remove the custom ad blocker rule(s) and the page will load as expected.