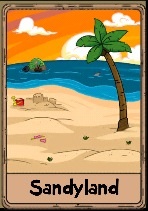 Sandy Land creatures are based around attack, as they have more creatures in the highest attacks than any other faction. However, most of these creatures boost defense or lower opponents and most people will say they are defensive. Lowering defense is better than dealing damage as it cannot be healed up again, thus it act as a very good choice for the later game.
Sandy Lands Cards Edit
Ad blocker interference detected!
Wikia is a free-to-use site that makes money from advertising. We have a modified experience for viewers using ad blockers

Wikia is not accessible if you've made further modifications. Remove the custom ad blocker rule(s) and the page will load as expected.