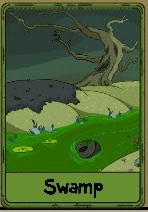 The Useless Swamp isn't that useless. These characters are well-balanced, though a little bit weak in the pre-game. As the game progresses, there are both tank-like useless swamp creatures and glass cannons such as the Mace Stump. Most of their floops deal direct damage to opposing creatures and the hero,such as the Wandering Bald Man, Gray Eyebat, Mace Stump and the Green Merman.
Useless Swamp Cards Edit
Ad blocker interference detected!
Wikia is a free-to-use site that makes money from advertising. We have a modified experience for viewers using ad blockers

Wikia is not accessible if you've made further modifications. Remove the custom ad blocker rule(s) and the page will load as expected.